Some of the other stuff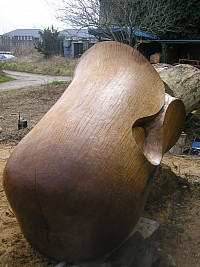 Trellogan sculpture commission
The Trellogan 'Doorstep Green' initiative was undertaken in order to breath life into a poorly used green area beside a large housing estate near Newquay, Cornwall.
Six separate sculptures were commissioned and installed onsite during 2005/6.
The sculpture, seen on the right here just prior to installation, was carved from a 2.5 ton oak butt, and based upon the theme of an opening seed.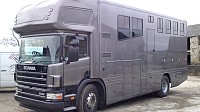 Bespoke Horsebox
A departure from previous work presented itself in 2010. Antony was asked to join a highly skilled team of people for the launch of a new company designing and building bespoke horseboxes.
Halo Horseboxes has gone from strength to strength and is completing more and more ambitious projects.
Moving to Hereford in 2012 meant having to leave Halo, but with fantastic experiences and new skills to add.